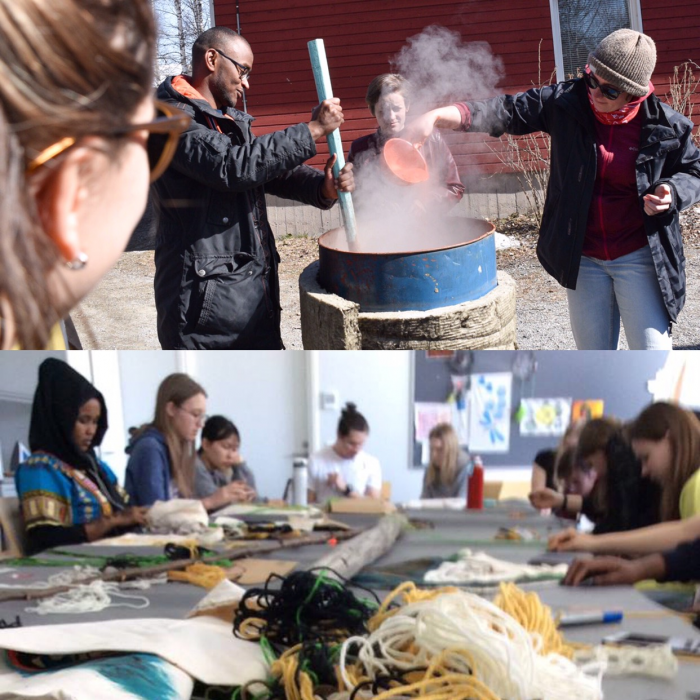 I was 15 when I first came to stay a week in an open-air museum on Kizhi Island in Russia for a journalism camp. It was fun and exciting to be around friends and spend time outdoors, making videos and articles about the old buildings and traditions, which to us looked or sounded fascinating and sometimes odd. What started as a fun week in high school, later turned out to be my passion and career choice – I joined the team of summer guides when I was 18, and stayed working for three summers. Years later, I joined the museum team as a full-time staff member developing international cooperation projects for young people, hoping to get them as excited about local history as I was once.

 
One. Plan it.
Having started working in Hyvärilä youth centre, I soon contacted the Nurmes museum, offering to join forces for engaging young people into learning about culture and traditions within non-formal education activities. We wanted to create learning opportunities for youngsters that would combine the fun methods of camp school pedagogy and profound knowledge of cultural heritage professionals. We reached out for help to Midt-Troms Museum from Norway, Föreningen Framtidståget from Sweden, and Sortavala youth centre from Russia. Together we wanted to develop a program that would combine knowledge and approaches of both youth work and cultural heritage professionals. We called it One, two, three – trade! referring to step-by-step learning about traditional trades of the North, and about trade as in marketing your products. Nordic Council of Ministers co-funded our project within NORDBUK program, so planning was under way.
The plan was to let young people design the camp as much as possible by themselves, so they all came together in the Facebook group, where they would participate in surveys to help us learn more about things they like to do, and want to do. Museum professionals would suggest activities and workshops, and participants voted for or against them. Learning by doing as much as possible was our goal, and it seemed to resonate well with the group.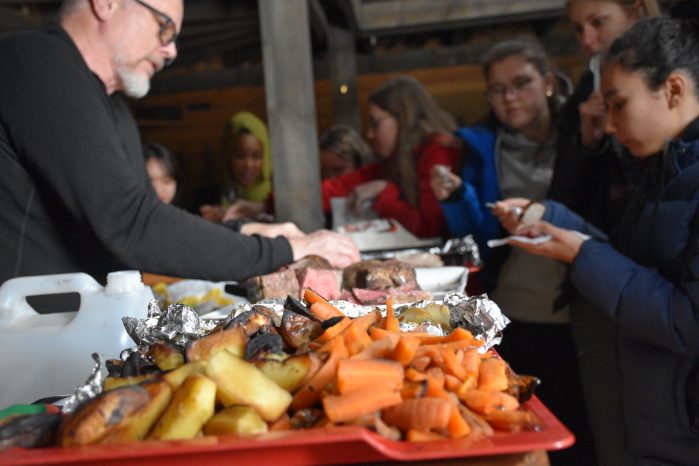 Two. Do it.
An exceptionally diverse group of bright young people eventually came together. They represented Nordic countries yet many of them were coming from other countries and cultures. There were also young people from Vietnam, Somalia, Italy, Slovakia, Morocco, Sudan and Jordan. Inadvertently, the camp became a learning place about North as a whole, rather than separate countries of the region.
Since the tradition of intergenerational transfer of common trade has faded so greatly, the program aimed to fill that gap with hands-on workshops and experiential learning.
I close my eyes and remember serene moments of taking the sun on a nice April day that we spent in Ikola Museum after eating my lunch from the box I packed earlier in the morning in Hyvärilä cafeteria. Around me camp participants were resting, playing games, sketching or continuing workshops – I could hear the hammer working. Building a roof was intended as a task to talk about traditional wooden architecture and a way to help the museum renew the roof for the sheep barn for the summer. Many tried it, but got bored from nailing dozens and dozens of wooden shingles on it. Eventually this task was completely conquered by a small team of girls who found it meditative and rewarding.
Making traditional paint from scratch takes patience and endurance – adding simple natural ingredients and stirring the paint for hours with a big wooden ore in a big barrel over the fire managed to catch attention of some participants. Others only showed interest when it came to the actual selling of the paint, and learning about entrepreneurship on the next day workshop. How to sell your work and how the knowledge of crafts can be utilized in the market – talking about that and encouraging to see the value chain was a very good idea that inspired participants to make up four new business plans.
Weaving of a traditional medieval belt with small wooden plates was a challenge. Watching modern young people struggle with meticulous process of starting the weaving process and tangling up the wool was puzzling – are we asking too much from them? Are "new people" even capable of focusing attention for so long on just one task anymore? Big relief – first one finished the task, then second and third – in total just a third of the group managed to finish it but the result was rewarding!
Cooking together on open fire was not new to anyone, but food brings people together and brightens the mood. We compared cooking of fish, meat and vegetables on the fire wrapped in tinfoil and wet newspaper – a concept of cooking in paper brought up quite a few condescending smiles, followed by a surprise because it turned out to be a real working method to make delicious roast. 
Walking to the woods and experiencing nature was a big part of the program. We went to the woods during the day and in the evening, we showed the bright and sunny hiking root with games over fire and coffees after, and we went for a completely silent nighttime walk to the woods with lanterns. Whatever the circumstances, nature did impress the group and was voted one of the best things about the camp after all.
A great addition to the program was arts workshops run by a Russian artist and historic reconstruction enthusiast, who engaged participants in sketching and printing on textile, enriched with historic commentary.
Peer learning activities were probably the favorite – participants organized recycling milk cartons workshop, and henna painting sessions, and cultural learning of course. Farewell party was on their to-do list as well, and they did it perfectly. Indeed, the activities run by participants themselves are the ones they cherish the most, and allows to claim ownership of the camp experiences.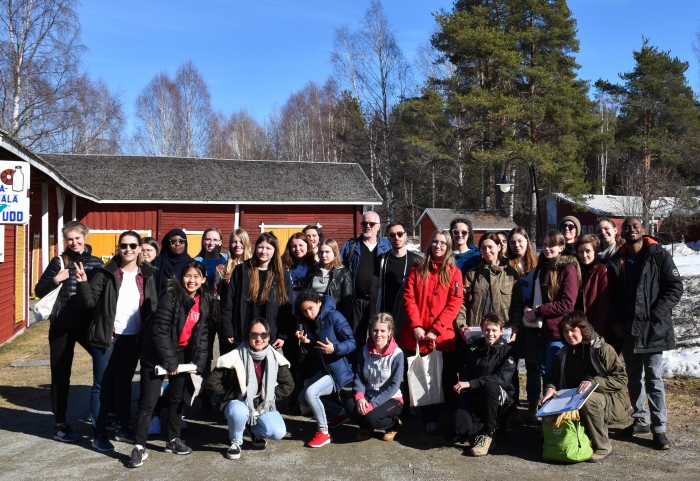 Three. Evaluate it.
Our first experience was inspiring and we learned from it. I was nervous and exhausted, hoping for the experience to be perfect for everyone, so was the team of group leaders from partner organizations. This first camp was our pilot, a test run of a series of culture-meets-youth activities we want to keep on doing. And even though the overall evaluation by participants was very good, we identified ways of how to do a better job next time.
Firstly, finding the sweet spot where learning theme is still interesting and not too difficult and preparing participants for the activity can be a challenge, but we should do it better. Some traditional crafts are hard and take a long time, and it is okay. This mindset and preparation is both good for those who run workshops and participate in them. That is the point where heritage experts and non-formal education experts should work together to meet in the middle.
Secondly, focusing on narrow theme or going as wide as possible? That was a question we were asking ourselves before we started, so we decided to go wide. Next time we will try to go deep and work on value chain discovery, and we will see how that goes.
And last but not least, motivation of young people – how to make them interested in learning about the local heritage. Two follow-up projects came out of this experience, and one of them starts already this autumn.
TRADE Knowledge was supported by Erasmus+ Programme to help us meet partners from other European countries – both youth workers and cultural heritage experts and learn from their experience of running heritage-based non-formal learning activities to make next TRADE camps better.
Ekaterina Sysoeva

International coordinator

Hyvärilä Youth Centre



Photos by Margarida Martins
1.  Weaving workshop had its ups and downs, testing patience and resulting in some tangled threads. Under kind supervision of Oksana Uchen the mess of the colorful thread turned into beautiful woven bracelets. 
2.  Ikola Museum welcomed us to the paint-making kitchen. Meri-Anna Rossander and her professional team of museum experts guided us through the making process and history of local architecture. 
3.  Arild Endal from Midt-Troms museum shared tips of making the perfect roast in wet newspaper and engaged camp participants into fire- and food-making process, putting smiles on our faces and filling our tummies with delicious veggies, fish and meat.
4. We spent one sunny day in Ikola museum of wooden architecture where everyone could pick an activity they liked best: making of paint, building a roof, making wallets out of milk boxes, sketching or just playing outside.