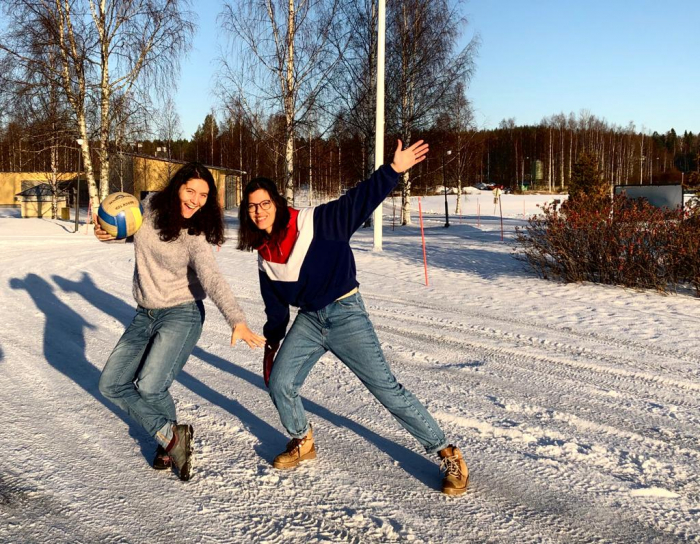 Angela and Margarida, ECS volunteers in Hyvärilä youth centre enjoying the snow.

Life in a youth center is lively and full of surprises. They are many things happening.  Camp schools, programs for adults, events or people who just visit the place, as ESC volunteers we get involved to do different jobs. There are many opportunities for us to bring our own contribution.
Today is one of the cold, but sunny days. The restaurant is buzzing with the noise and energy of 30 kids enjoying their breakfast. Many plates in one time to be washed, many cups of cocoa drinks are part of a cheerful start to the day.
At 8:30 I need to be in Navetta to prepare the materials for outdoor games. Sanna, one of the instructors, said I should always do things that I have done before and I am confident in delivering. So I prepared three new games which I hope will be new and enjoyable to them.
The day's activities start at 9 am here. All students are expected to gather at an assembly point where they discover who their instructor is, just before travelling to that day's activities together.
After 4 months, I can present myself in Finnish, but when it comes to instructions I switch to English. That is the moment when the kids are getting excited or confused. Usually, there is always someone who understand English and helps me with the translation, like today. One kid is telling me in a clear and nice language that he will translate for his colleagues. I love it when kids volunteer to help!
First game starts. There are two teams and they need to work as a team, that they can get many points. This is the moment when I can observe who is taking initiative, who is competitive, how they face a losing or a winning. These details help me to decide if for the next games and which skills needs to be developed. Do I choose some with focus on team or can I do also some competition?
In this group, there are some kids who are involved in football or gymnastic clubs and they are used with performance. They do not take themselves too serious, so I can stick with the initial plan. Other time, I may have changed the order of the exercises. Now, they did not want to stop playing the last game.
In an hour and a half of playing outdoor games, I learnt two new finnish words, I discovered how can I make more clear the instructions and that I like so much being outside and working with them. Second round, the next group.
At 11:00 I go for the lunch. We have all the meals included, which means that we eat in the restaurant every day. Next activity starts at 12. This time, I do Hyrlinki with them. Hyrlinki is a specific game for Hyvärilä, which kids enjoy. One day, some students were playing it every time they had the chance to do it. It is another group, so I present myself again and I see if they understand me. After I explained the rules, the game is on them. I just keep the score and tweak some rules from time to time. Every volunteer from here did this game at least once, if not more.
This is just one day from many others. Each one brings me new discoveries about myself and about the culture I found here. I came from Romania four months ago, but it feels like years.
Below, you can find a short version about how is our life in Hyvarila youth center.
Angela

ESC in Youth Center Hyvärilä in Nurmes