Memorable experiences, respect for nature and the joy of being together – that's what camp schools offer. One child praised how they were encouraged to do new things in a supportive atmosphere. Another child stated that the few days of camp school were the highlight of their year. For teachers, camp schools present the opportunity to improve team spirit in their classes. 
The many memorable camp experiences are thanks to the 30-year-old Finnish Youth Centre Association, which organises various camps for school children as well as coaching for young people in challenging life situations. The lonelier young people also find their way into groups as the environment that differs from everyday life has provided them new things to do in a more relaxed atmosphere.
The youth centre camps reach tens of thousands of children and young people every year. Friendships made at the camp schools can last a lifetime. At the same time, an increased sense of belonging and team spirit reduce bullying.
I extend my thanks to all the education and guidance professionals of the Finnish Youth Centres. You bring inclusion at a time when many children and young people are increasingly experiencing loneliness. In these challenging times, we cannot afford to add to the distress of younger generations. After all, the future of our country rests on them. The experiences of the children we hear from inspire hope that everyone can surpass themselves.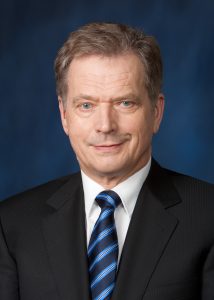 Sauli Niinistö 
President of the Republic of Finland 
Patron of the Finnish Youth Centre Association's anniversary year