Adventure and outdoor education is a holistic learning approach which can which can be used for physical, mental and socioemotional aspects. Adventure and outdoor education can be applied to various fields such as schooling, youth work, social work and therapy. In practice, activities utilised in adventure and outdoor education may vary from camping and canoeing to exploring urban environments as well as, for instance, cooking and playing games.
Adventure and outdoor education challenges participants to face unpredictable outcomes.
This method improves
Physical and psychological self-knowledge

Strengthens social skills

Enhances an individual's sense of responsibility, resourcefulness and courage
In Finland, adventure and outdoor education activities are always professionally instructed and provide a safe environment or participants to face unpredictability, to explore and practice new roles and ways to act and to challenge themselves mentally, socially and physically. By reflecting upon their experiences, participants may develop self-knowledge and recognise connections between their actions and outcomes. Through instructed reflecting, participants are guided in finding out the confluences between what they just experienced and their everyday life. As a consequence, these individuals are then encouraged to adopt new ways of thinking and behaving in diverse situations and they can transfer and apply what they learned to use in various contexts.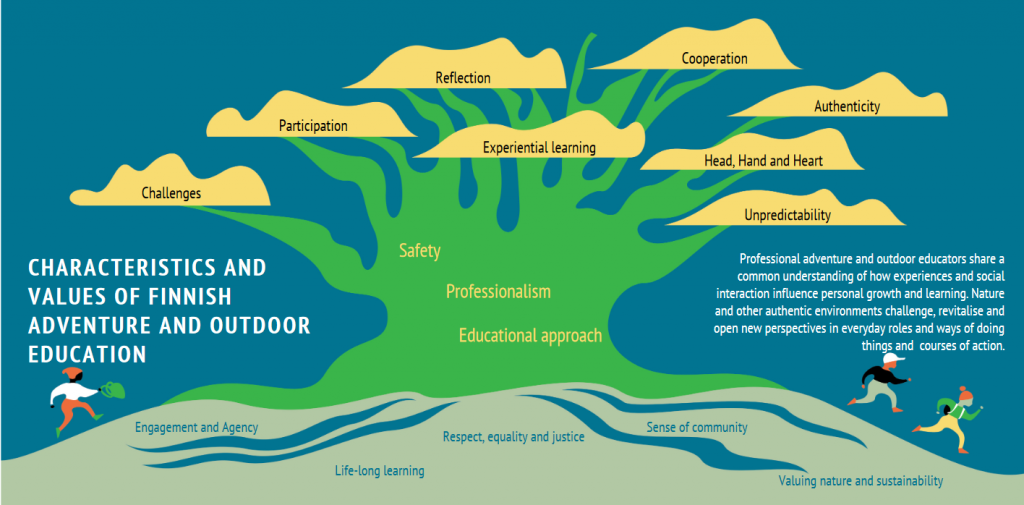 In adventure and outdoor education, social aspect is essential. The learning experience is a structured process with a strong social element, and it is action-based and inclusive learning. Group activities allow individuals to reflect on themselves as group members and actors in relation to other members of the group.
Read more: Adventure and outdoor education